Service Cops is a brainchild of four gentlemen who during their routine Wednesday Coffee Meetings realized a gap in the services industry and this mushroomed into a hunger and thirst for better service provision, value creation, digital solutions and sustainability. The relentless pursuit of this idea saw the four professionals leave their formal employment to form the multi award winning behemoth known today as Service Cops.
Twelve years (12 years) down the road, Service Cops has grown into a regional outfit with presence in four countries with a stack of technology solutions serving Banking and Finance, Insurance, Education, Payments. In pursuit of Service excellence, the company has developed and implemented systems that are certified to International Standards. As a result, the company has had impact in the service industry through its technology and unique business processes outsourcing solutions locally and beyond.
The Service Cops value system of People, Innovation, Teamwork, Quality and ensuring a Fun and friendly work has been and shall remain the greatest pillar of our growth.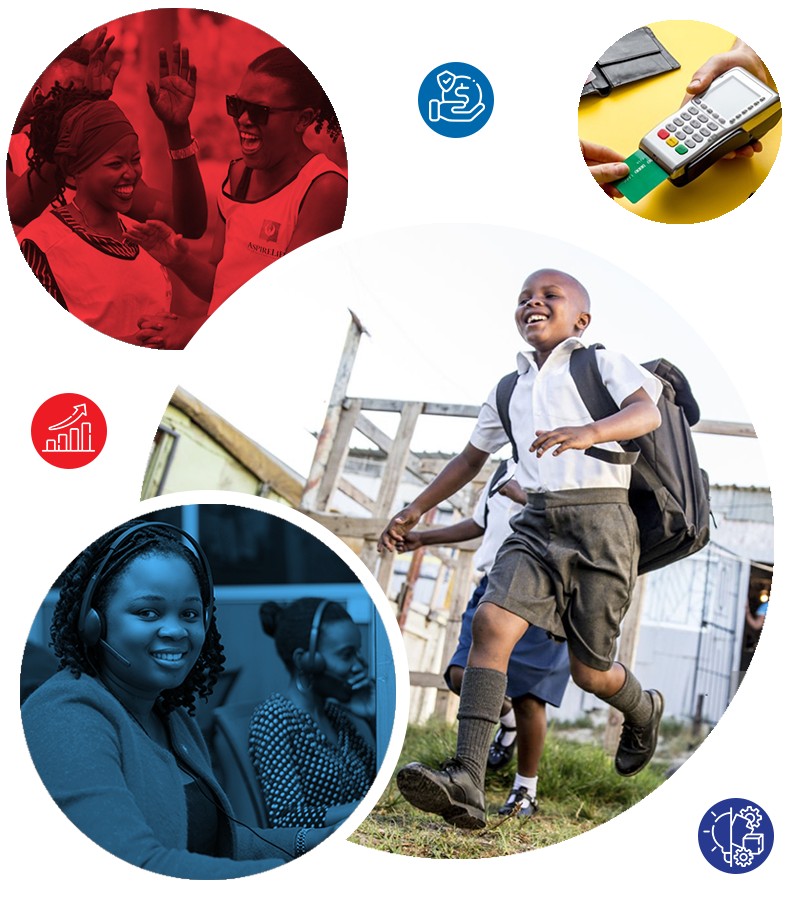 To be the leading Financial Technology and Business Processes Outsourcing partner creating opportunities across the world.
Our mission is to maximize value for our customers, employees, shareholders and communities we operate in. We shall achieve our mission through;

Our true belief is that people are our biggest resource that enables other resources to generate value for our company. We invest in providing the right working conditions for our people and investing in their training. 

At Service Cops we challenge the status quo; we live by the edge by coming with novel solutions to solve current world challenges.

We recognize that our business thrives when we operate as a team. We acknowledge that a strong team of average individuals is better that a set of top performers working independently. Team work shall be encouraged at all levels.

Quality Assurance is our commitment to the customers we serve. We believe in Excellency in whatever we do.

We believe in creating a fun, friendly and creative work environment for our staff. Most of our working life is spent in office and we commit to make it worth it.
Certification For Information Safety and Security
Because of our belief and philosophy in offering the best services to our customers, Service Cops has over the years invested in setting up infrastructure, systems, policies, and governance structures.
Service Cops Limited has a strong, committed and dedicated leadership and management structure and through corporation, coordination and team work, all our key core business processes have been streamlined to ensure effective delivery of products, services and solutions while ensuring satisfaction for all our clients and partners.

Service Cops Rwanda
Service Cops subsidiary in Rwanda Fully launched with Coge Bank and MTN Rwanda as partners about two years ago. The project is currently undergoing review before we can commence again. Rwanda's appetite for digital uptake is very high and Service Cops shall ride on this to develop and deliver desired digital solutions especially in the education, payments and Banking industry.
Contact information
Gasabo, Kimironko 6562, Kigali, Uganda
Email: support@schoolpay.co.rw
Website: www.schoolpay.co.rw

School Pay Limited Zambia
Service Cops Limited expanded its to Zambia and has been running a subsidiary for the last one and a half years. During this period, the subsidiary has managed to set up and establish strong presence in the market and establish key partnerships. School pay Zambia has partnerships with Technology partners, Mobile Network Operators, Banks, UN Agencies as well as many educational institutions. School Pay Limited successfully delivered a pilot digitization of school fees payment in government schools on behalf FSD Zambia. Key partners in Zambia include Pearl Systems, FSD Zambia, Zamtel, Airtel, MTN Zambia, Atlas Mara, Zanaco and AB bank. The strategy, is to be the leading provider of digital solutions in the education industry in Zambia.
Contact information
Plot 26, Joseph Mwilwa Rhodes Park 34144,  Lusaka, Zambia
Tel: +260 763 885 373
Email: support@schoolpay.co.zm